Apple Watch: Are All Workouts Created Equal?
How Can Activity Trends Help Me?
You are using your Apple Watch to track your fitness activities, but you want to do more than just track your activities. You want to improve your level of fitness over time.
To help with this, the Trends feature was introduced in the Activity App on the iPhone, in iOS 13 (and WatchOS 6).
Using Activity Trends, you can see what areas you are improving and what areas need improvement. In the areas that need improvement, the Activity app will tell you exactly what you need to do so that you can reverse any downward trends and turn them into upward trends.
What Are Activity Trends?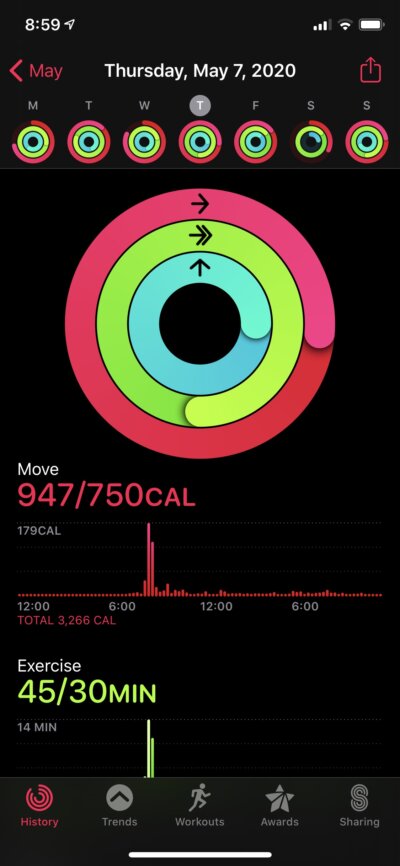 To view Trends in the Activity app, just tap Trends at the bottom of the screen.
Trends in the Activity app provide you with a new way to monitor the progress of your daily activity. Using Trends, you can see what you need to do in order to increase your activity and get more fit.
The Trends feature tracks your activities for the following 8 metrics:
Stand Minutes (Minutes / Hour)
Walking Pace (Minutes / Mile)
Running Pace (Minutes / Mile)
When viewing Trends, you will see how your last 90 days of activity compares to your last year of activity. For each of the metrics above, you will see if you are doing better in the last 90 days, or if you are not doing as well, when compared to the past year.
The goal is to be doing better in as many categories as possible, and to constantly try to improve over time.
How Do I Use Trends?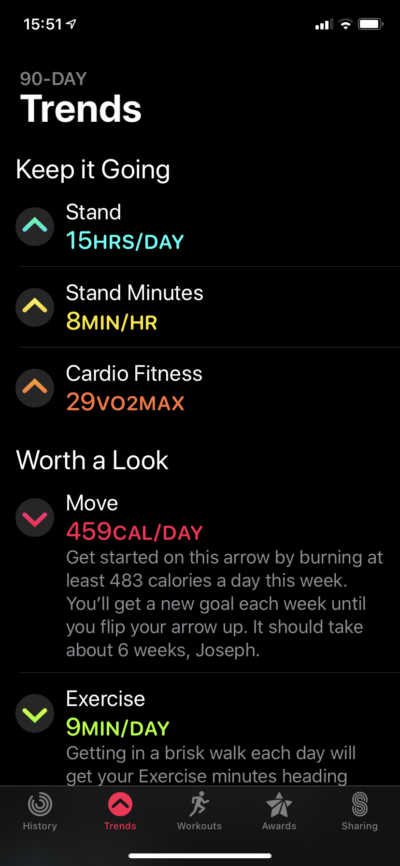 When you open the Trends view in the Activity app, you'll see a summary of all of your trends.
At the top of the screen you'll see the trends for the activities that are improving. They will be listed under the title Keep it going. Each activity in this section will have an up-arrow next to it to indicate that you are trending up and will show its value for the last 90 days.
If all of your activities are trending upward, it will show All of your trends are looking good. Incredible! Don't let up. instead of Keep it going.
If you have activities that are trending downwards, they will be shown under the title Worth a Look. Each activity that is trending downwards will have a down-arrow next to it to indicate that it is trending down and will show its value for the last 90 days.
Below this value, it will show you a suggestion of what you need to do in order to change the trend into a positive trend. This is like having your own personal coach, gently encouraging you to do better and telling you what you need to do.
The Activity app must collect data for 180 days before it will show your trends. If there is not enough data of a certain type, you will see that listed under the title Needs More Data.
I Want to Know More About My Trends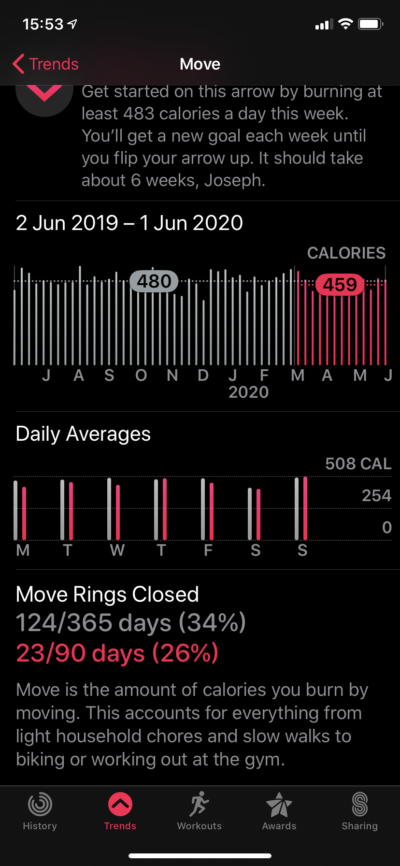 Tapping on any of the activities on the main Trends screen will show you additional details for that category. On the details screen, in addition to seeing whether the trend is going up or down, you will see several graphs.
You'll see a graph of the selected category for the last year, with the past 90 days highlighted in color. It will show your yearly average as well as your average in the past 90 days.
Below the yearly chart, you will see a chart for each day of the week with a comparison of your daily average for the last 90 days shown in color, compared to the last year.
For Move, Exercise and Stand, you'll also see the percentage of days that you closed the ring over the past year, compared to the last 90 days.
If you tap on an activity that Needs More Data, on the detail screen you will get instructions on what to do in order to unlock that trend.
What Should I Do Now?
If you want to improve your fitness, you should check your Activity Trends every week and see which of the trends are in the Worth a Look section. Tap each one of them to see what you need to do, so that you can change the downward trend into an upward trend.
If you do this regularly, you'll see that your fitness level will increase over time. Please note that in certain situations, it may require several weeks before you'll be able to reverse a trend.
Products that may interest you
Please note that this page contains affiliate links. This means that if you purchase from some of these links, we will receive a small commission from the sale at no extra cost to you.